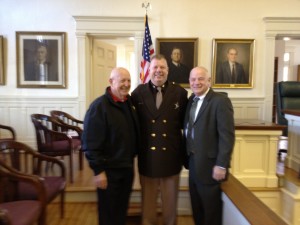 CHESTERFIELD – Retired police major Karl S. Leonard was sworn in Saturday as the county's new sheriff during an investiture ceremony at the Chesterfield County Historic 1917 Courthouse. Leonard is the county's 61st sheriff. His first day in his new office will be Monday.
Leonard, who served in the Chesterfield County Police Department for 31 years before retiring in 2012, will be fulfilling the term of Dennis Proffitt, retired sheriff. Leonard began working for the Sheriff's Office in 2013, where he worked as undersheriff.
"It feels humbling really. It's a new and third career for me," Leonard said. "I'm excited about what we are going to do in the Sheriff's Office."
Before he was an officer with the Chesterfield County Police Department, Leonard served for 29 years as a U.S. Coast Guard Reservist.
Leonard added that his previous work experience prepared him for his new position.
"When you are in leadership, the job doesn't change from one organization to another. It's the same leadership skills," he said.
Leonard said that he wants to raise the profile of the Sheriff's Office in the community.
"We do more than just oversee the courts and the jail," he said.
Leonard stressed that the Sheriff's Office also champions recidivism and community outreach.
During the ceremony, Leonard was supported by his wife, Karen Leonard; daughters, Conor Leonard, Alexandra Leonard and Ashley Knoell; his son-in-law, Andrew Knoell; his granddaughter, Maddyn Knoell; and grandson, Hunter Knoell.
"I'm proud of his years of service to the county," Karen Leonard said.
She added that much of the family also followed careers in public service.
Karen Leonard has worked for the county for 21 years – 14 as a probation officer and then seven in records administration for the county's police department.
Conor Leonard is preparing to take the firefighter entrance exam for Chesterfield County. She attends John Tyler where she plans to obtain her degree in general studies in May. Alexandra Leonard is in her fourth year of nursing school at Virginia Commonwealth University and Ashley Leonard works as a nurse in Tonawanda, N.Y.
Leonard also has two other daughters who weren't in attendance, Lauren Leonard and Meghan Henderson.
BY LEAH SMALL (STAFF WRITER)
Published: February 2, 2014