Experienced Law Enforcement Officer, Veteran
Leadership We Can Count On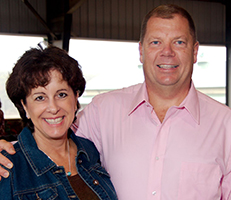 I am honored and humbled to be your Sheriff of Chesterfield County.  This is not a responsibility I take lightly and I am fully prepared to move forward to meet the many challenges that will present themselves. I believe my formal education (Master's Degree from VCU) and specialized education such as graduating from the FBI National Academy, combined with over thirty years of service with the Chesterfield Police Department and also the Richmond Sheriff's Office before that, along with my extensive military service including significant Command tours and deployments overseas, have more than prepared me for this.
As I transition into this position I will continue to build on the foundation that Sheriff Dennis Proffitt has already built for this fine organization and I will capitalize on his energy and momentum to keep moving this organization in the direction he has placed it on. Focusing on the efficiencies and best practices already in place, my vision for this Office is to take those additional steps to bring this organization to the next level that Sheriff Proffitt, and his predecessor Sheriff Clarence Williams, envisioned it reaching.
In particular I will focus on:
Maintaining and enhancing and organization based on human dignity and respect for all employees, citizens and customers to include those who fall under our care and responsibility
Raising the visibility of this organization by exploiting greater marketing efforts to showcase the exceptional staff employed here and the phenomenal work they do day-in and day-out
Greater efforts to promote the first rate organization the Chesterfield Sheriff's Office is to include continued efforts to maintain the organization's excellent reputation and accreditation status
Expanding our community outreach efforts to ensure we have a greater role in the community where needed and to create a better understanding by the public of the many citizen based programs the Sheriff's Office performs
Demonstrating exceptional fiscal responsibility by exploring all possible efficiencies to identify cost saving ideas, workload reduction, more efficient and effective ways of conducting business, while maintaining the same level of service to the community and safety and security within the Courts and jail.
Maintain a transparent organization carried out in the manner and fashion expected of the citizens of Chesterfield County